South Royalton Market on any given day tends to be a parade of beautiful, well-behaved four-legged friends. When we can, we ask these gorgeous pooches to strike a pose for the camera and feature them here, with your permission of course.
Actually, Fuzzy Friend, Heather, didn't need to be told by her human, Felicia, of SoRo. Heather sat as soon as she saw the free biscuit coming her way. Staying seated was a little tricky, but she was a good sweet girl!
Tucker awaited his grandad's return from a shop at the Co-op on Monday, when treats were administered!
Fuzzy Friend, Beau, liked his free treats more than he liked waiting in the rain for his mom while she shopped recently.
Fuzzy Friend, Aiofe (pronounced 'A – fuh') visited us from Montpelier while she and her family enjoyed a picnic on the SoRo village green recently. She REALLY liked her free treats and showed us how well she sat in order to get more… and more.
Fuzzy Friend, Willow, wanted to come into the Co-op recently but waited patiently outside. She was glad to indulge in some fresh water and free treats though! Come again Willow!
Galileo the cat, owned by SoRo Market Co-op's staffer, Pauline, won, paws down, "cutest annual meeting attendee" with his fabulous peacock costume! Every human who attended, over 30 this year, went home with a prize too! Pictured are Pauline and Galileo and Galileo enjoying his cat treat prize!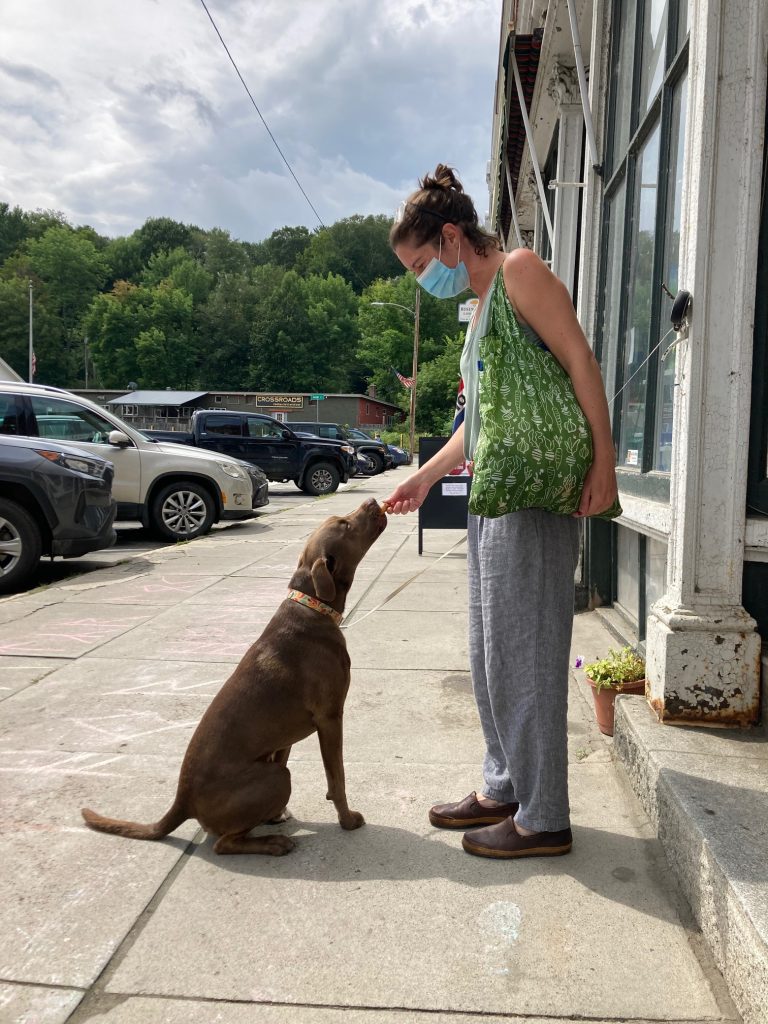 Free Treats for Fuzzy Friends
If your DOG waits on the sidewalk (sorry, not in your vehicle or inside the store) while you shop at the Co-op, please treat them to one free dog biscuit from our "Free Treats for Fuzzy Friends" bucket to the left of our entrance, inside. Because pooches are people too!
(Only service animals that have been specifically trained to perform a task related to the owner's disability are allowed in the store.)