Children are our future! Seeing them shopping for good food with their families here at the SoRo Market makes us feel hopeful and smile. When our outreach coordinator, Heather, is in the store with her camera, she loves to snap pictures of our beloved Littlest Shoppers.
Our latest littlest shoppers
Roman, 18 mos, and Mom Tessa, exhibit some extreme cooperation while pushing their cart. We love it!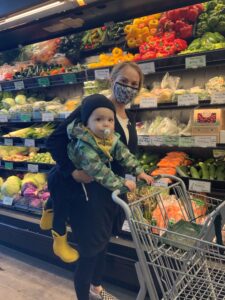 Littlest Shopper, Esme, 2, always brings her fuzzy bear shopping. We love your outgoing personality as well as your healthy snack choices cutie!